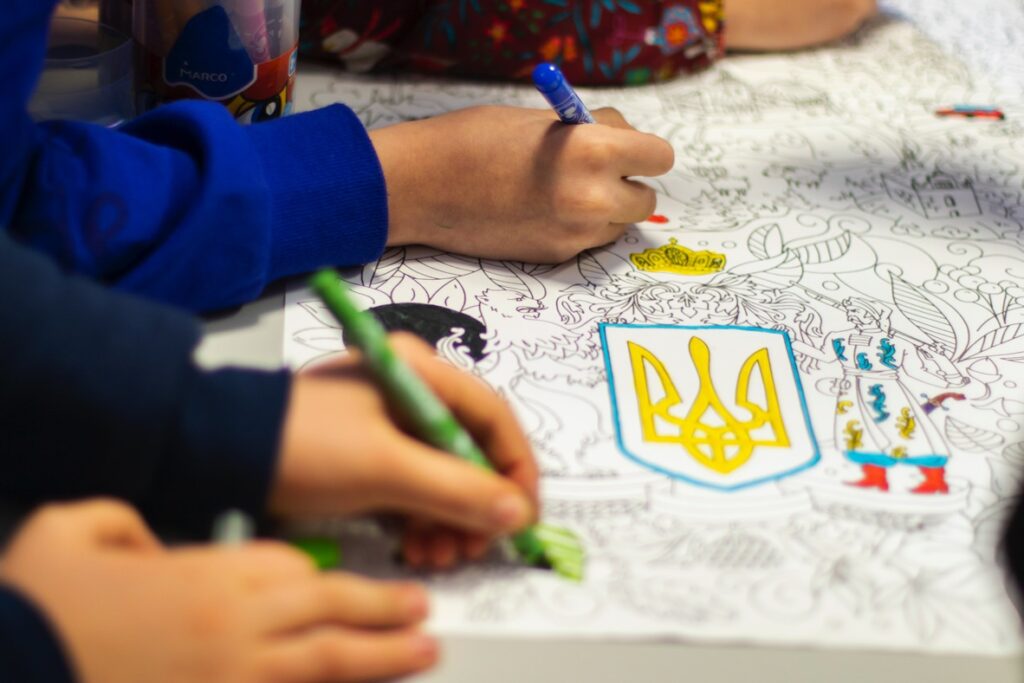 "Ukraine Speaks English": news and updated
We want to give you some essential details about our "Ukraine Speaks English" project in the context of Ukrainian education at the beginning of this school year.

Want to begin by sharing something that warmed our hearts. You might be familiar with the Telegram chat, where we share our schedules with the kids. Today, a newcomer to our group asked how our lessons work. He is interested in joining but wanted to know what to expect.

Before our colleagues could respond, another child in the chat stepped in and explained our lessons, adding, "Let me tell you, the classes are enjoyable. There's no pressure or judgment here. I always look forward to joining!" It's extraordinary when the audience speaks for itself like this.
Also, we would like to tell you about our recent news, joint recent achievements, plans, and the context.
💙💛
New Project's Name – "Ukraine Speaks English"

We have started the new school year with the new project's name. From September, the Ukrainian program is called "Ukraine Speaks English". We decided to change it because the previous one, "English-speaking meetings with teachers from around the world for Ukrainian children", was way too long, in our opinion. We hope you will like the new one.
💙💛
Summer 2023

Our teacher volunteers delivered 188 lessons during the summer, with more than 9,000 Ukrainian children participating. The attendance was even higher than we expected, and this is amazing.
This achievement wouldn't have been possible without the unwavering support of our partners in Canada, Classrooms Without Walls NGO, who are with us every step.
💙💛
School Year 2023-24 and Ukrainian Education

The new school year in Ukraine promises to be no less challenging than the previous one. Reportedly, 3758 Ukrainian educational institutions have suffered Russian bombing, and 363 have been destroyed.
Despite that, the efforts of the Ukrainian government are focused on letting all the children get a school education. The safety of students and educators is the crucial point here.
Another critical point is the continuity of the learning process. It can be done online, offline, or in a "mixed" format. 19% of Ukrainian schools (about 2500) will have online classes only. 51% (about 6700 schools) will be teaching offline classes. And some schools have adopted what they call a "mixed" format.
Also, we expect to have blackouts and heating and electricity difficulties this winter again. Ukrainian intelligence reports Russians are preparing to bomb our power infrastructure, similar to what happened last year.
But Ukrainian schools and teachers do their best to ensure learning doesn't stop. Organizations like "Smart Osvita" NGO are supporting both students and teachers.
As of August 2023, over 150 volunteer teachers from Canada, Australia, Portugal, Austria, Turkey, the USA, Spain, Japan, Indonesia, and India have participated in the project "Ukraine Speaks English"
Classrooms Without Walls NGO greatly supports us in involving new teacher volunteers and promoting the program.
💙💛
Our Plans

This school year, we plan to expand the project to Ukrainian schools taught online. English practice is a substantial need there. Thus, we are constantly looking for ESL teachers willing to donate one hour weekly to deliver English lessons to Ukrainian school classes for a 2-3 month period.
Open public lessons will also remain an essential part of our program.
Thanks for being with us!