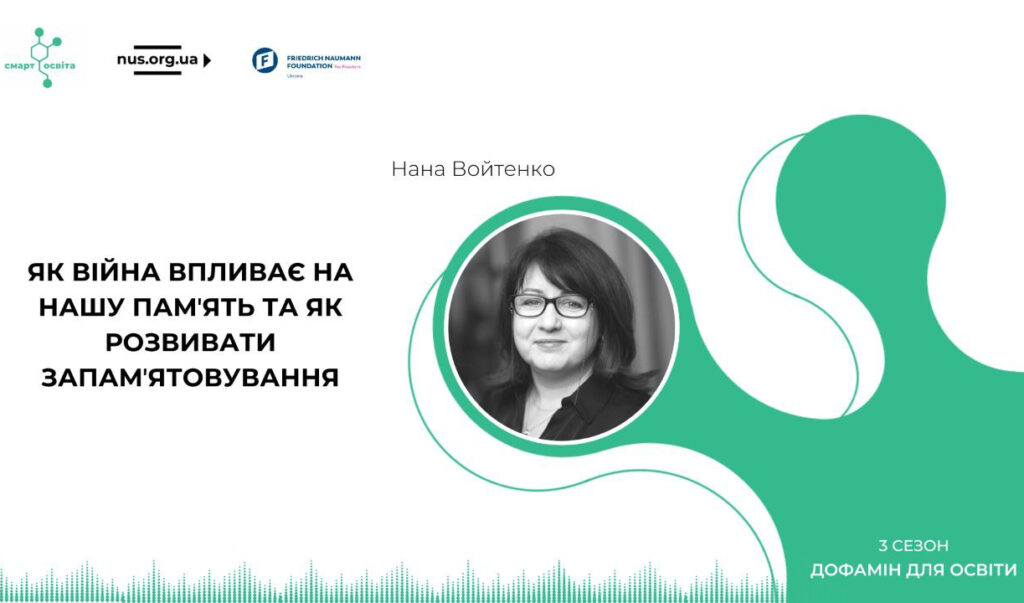 Listen to the new podcast about memory
"Smart Osvita" and the "New Ukrainian School" continue the third season of the "Dopamine for Education" podcast. In the new episode, Halyna Tytysh, head of the "Smart Osvita" NGO, and Nana Voitenko, professor, doctor of biological sciences, and neurophysiologist, discussed what happens to our cognitive skills during the war and how to train our brains under stress.
You can listen to the podcast here.
The speakers discussed the following topics:
how stress due to the war affects our memory and cognitive skills;
how children and adults can reduce their stress levels;
why it's better to sleep instead of going to 1 class after a night of anxiety;
"I have a bad memory for…" – what are the peculiarities of poor memorization;
problems with learning via computer – myth or reality;
what should a lesson be like to make the knowledge better absorbed;
why "memorizing" poems can be helpful;
about the brain's limit to assimilate information and about "information overdose";
why moderate stress is even beneficial and what helps develop memory;
how to ease mental and physical pain in times of war.
---
The publication was prepared with the support of the Friedrich Naumann Foundation For Freedom in Ukraine.