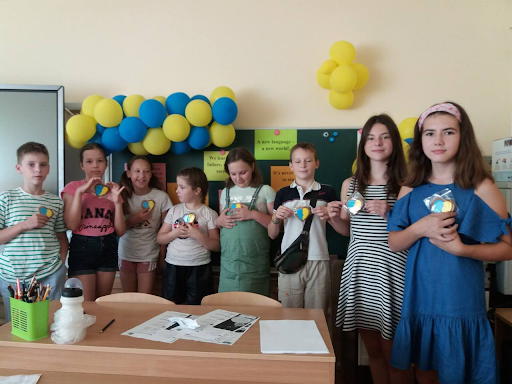 Feedback from teachers, students, and their parents about catch-up classes
This summer, the NGO "Smart Osvita" held catch-up classes for schoolchildren in grades 5-11 — free classes in the format of educational camps in Lviv.
They were aimed at children who needed additional classes to master the material from the main subjects and catch up on what was missed because of the war.
For five weeks, schoolchildren deepened their knowledge of mathematics, English and Ukrainian languages, physics, and chemistry of their choice. In total, offline lessons were attended by 1,000 students from various regions of Ukraine who were in Lviv at the time
FEEDBACK FROM TEACHERS

Lyudmila Roman, a mathematics teacher at the Lviv Academic Gymnasium, project coordinator
At the end of the school year, "Smart Osvita" collected data on which teachers would like to teach in the summer school. Yes, we became one of the four primary schools where we conducted the training. We had 26 teachers: both from our school and others. Later, all the teachers became "their own."
We planned that approximately 220 children would come to us. After all, our shelter can accommodate such a number. Over time, our high school students also became more interested in studying. Some children brought their sisters, brothers, and friends. Everything worked like "word of mouth."
Children could attend three classes from the 10th to the 13th. Some gave preference to technical subjects, and others mostly went to languages. And some attended all the lessons. We studied all classes except elementary — groups of 8-14 children each.

Teachers prepared exciting developments and various printouts and used multimedia equipment to encourage children to study in the summer because it was difficult. Teachers did not assign homework or grade. However, some children asked for an assignment, and some even brought it to be checked.
Of course, teachers also had a challenge. After all, there were weaker and stronger children, and there were those who said: "Hey, they don't teach so much at my school. It's easier there." But working in groups and using an individual approach helped. High school students were more motivated and came explicitly for knowledge. It was noticeable that the younger children were mostly encouraged to go by their parents so that they could do something in the summer. But everyone willingly got involved in the work.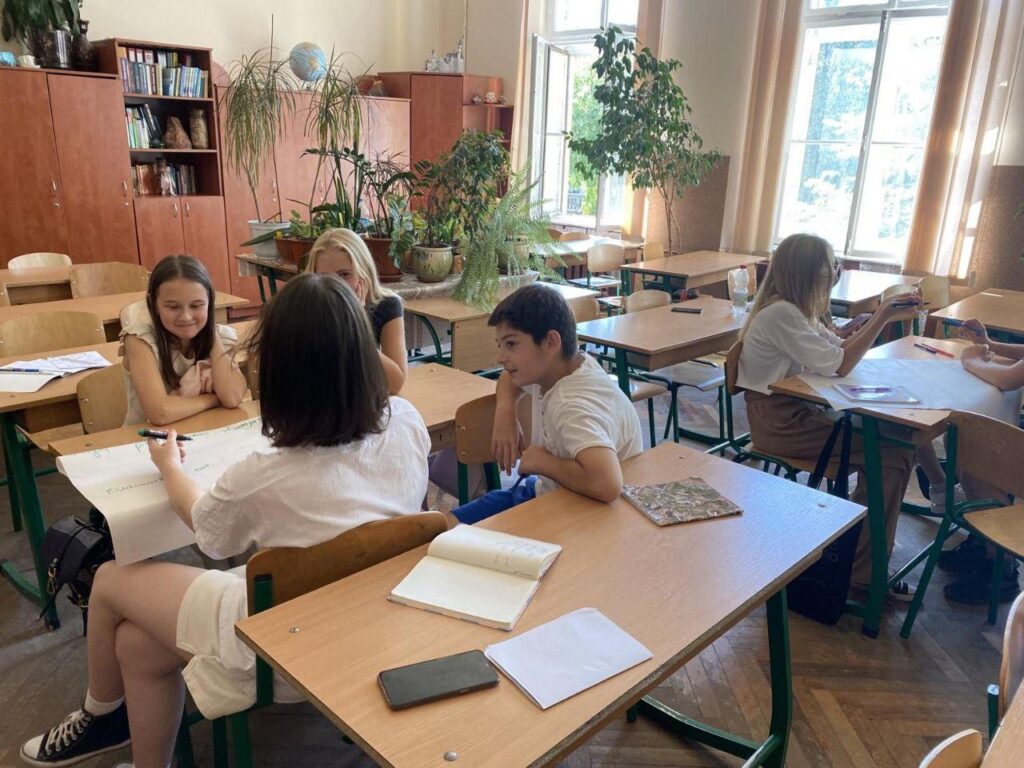 Later, the teachers admitted they learned much in technical terms during the summer classes. After all, they came to other people's styles and worked with different equipment, so they learned to adapt quickly.
On the last day, we held non-standard classes: integrated lessons and a sports holiday. Children gathered in groups and discussed and wrote summaries and reviews on a large piece of paper.
For example, some wrote that it was a place of safety and confidence for them. Some children wrote: "Here I finally understood what triangles are, the difference between "shall" and "will" in English." They also said they would like a more complicated program, games, coffee, and air conditioning next time. High school students played volleyball during breaks, so they wrote a request to include volleyball in the list of subjects.
Regarding the challenges: as a coordinator, the most difficult thing for me was to write the schedule based on the individual requests of the students. It was the first time, and it was an exciting experience. The difficulty was that some children indicated one object, and some indicated five.
In addition, we were worried that there would be no air alarms. After all, the children were from all over the city and generally from other regions. And our institution is in the area of Stepan Bandera Street, so it was also a challenge for non-town residents. They were worried (they were afraid that the Russians would attack this street, ed.).
During training, there were air alarms. For the first time, everyone was a little worried. But when the children understood what a shelter is, there were chairs, and you could sit quietly. Everything fell into place. Thus, the school gained good experience during the summer study before working in the new school year.
The summer education experience shows that children need face-to-face learning to catch up and level up their knowledge under such circumstances as a pandemic and war. At the first opportunity, children should have space to communicate. They value face-to-face time with their peers. They were bored.
Many took up summer studies as a straw to become more confident in the new school year and to ask additional questions for a better understanding.
While it was an exciting experience for the school: an unexpected situation, unfamiliar children and teachers, a short period. In the summer, at the same time, we checked all equipment, and everyone and everything was ready for training in advance.

Oksana Sakhno, deputy director for educational work, teacher of social and humanitarian disciplines at the Lyceum "Oriyana," second coordinator
We jumped into the last car and joined the selected NGO "Smart Osvita" schools. After all, one of the schools did not come due to the lack of shelter. There were difficulties because we were away from the first meetings. Everything happened on the fly. For example, it was necessary to form a two-day schedule according to individual educational trajectories. But we did it.
I anxiously waited for Monday and called my assistants; we came up with directions for children who did not know the school. The training was preceded by a week of painstaking work and forecasting challenges.
We decided on classrooms, depending on the forms and methods of teaching. The school has three interactive whiteboards, so they assign which teacher works with them and when. Also, at the same time, we had a camp for children from among IDPs, so it was necessary to divide education between floors. Schemes and pointers were developed, a duty officer was chosen, and there was also a nurse.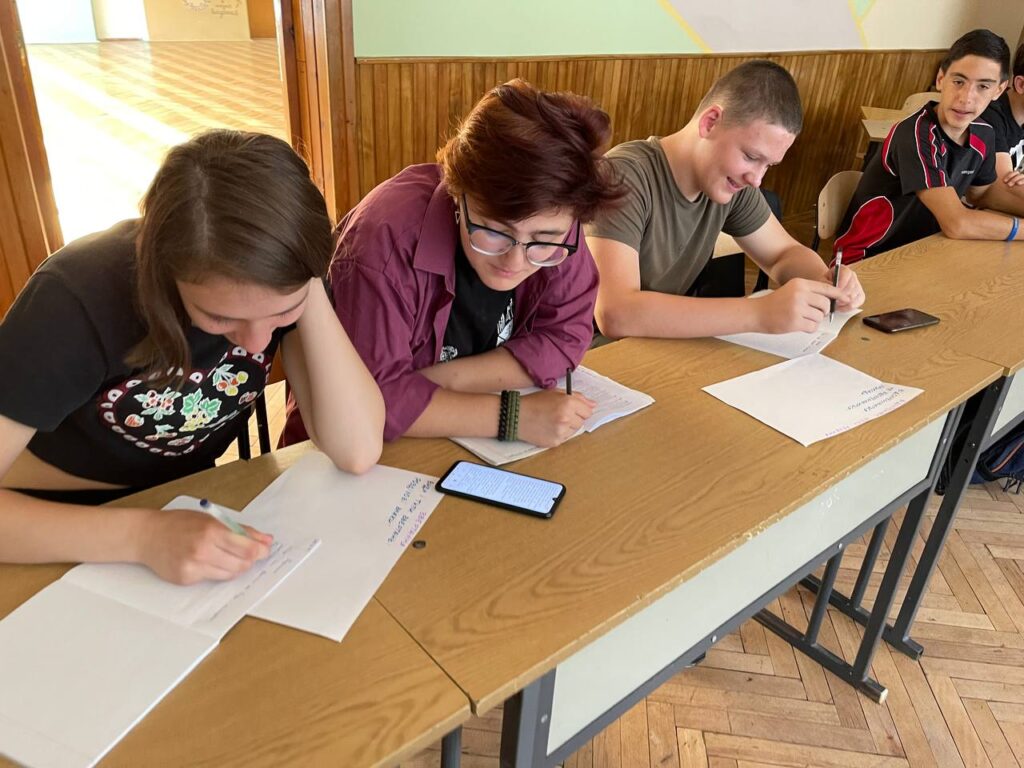 At first, there was uncertainty because the children were from different schools and had different levels of practice. It was a challenge for teachers – to understand at what level to start working with children.
But after the first two classes, the teachers said it was not difficult. They also emphasized that this is fresh air after distance learning. There was even a competition when deciding who would teach in other groups was necessary.
In addition, children from different regions and institutions created the highlight of this training. After all, powerful socialization took place simultaneously. Children established communication among themselves.
In total, we had 12 teachers who taught 436 lessons. Some were from other schools, but the teachers had complete synergy. Teachers had the opportunity to exchange methods, observe other teachers' teaching, and receive feedback on each other's teaching. Subjects: Ukrainian language, mathematics, English language, and chemistry. The training took place for students in grades 7-11.
There were 30 groups of 7–11 children in total. One hundred ninety-seven students registered for classes. However, some students studied only one subject. For example, there was a child who only went to chemistry. I told her she could choose other issues, but she was motivated to go only to this subject.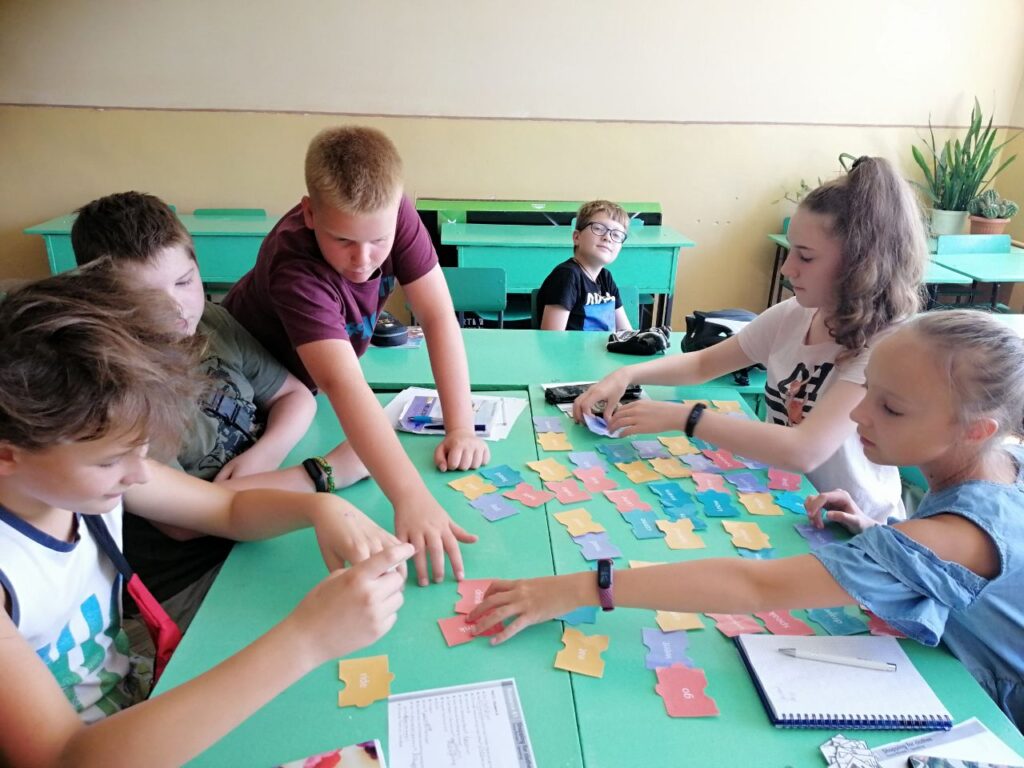 The atmosphere in the classrooms was amiable. Of course, at first, the children were wary. For example, during a short interview, the student said he came here because his mother motivated him. Like, he will open a card in the bank. However, he liked to go because it became interesting.
It was necessary to organize education, so children did not feel controlled and judged and attended classes with pleasure. So the teachers concentrated on active forms and methods and did not shape the process in a standard way.
Yes, we worked on various interactive platforms ("Kahoot," "Quiz"), where there is a competitive nature. For example, one of the platforms greets the top three with fireworks. My office is close to where the Ukrainian language was taught. Then the eleventh graders welcomed the winners with applause and shouts.
Also, when they studied business speaking styles, they arranged French tea parties and Italian breakfasts. One of the girls, who knew she would be absent next week due to family circumstances, begged the teacher not to do this and that because she would be gone. In chemistry in the 9th grade, practical experiments took place, which the children conducted independently, telling what they were doing, under the teacher's supervision.
There were no problems in the interaction between the children, although they are from different areas. They talked among themselves about who and from whom they knew that this boy left the occupied region in 2016, and this one – because of current events. Some of the children who attended our school in the summer went to study with us.
The goal was achieved. I was at the final lessons and saw how the children completed the tasks. They quickly did matching exercises and other things on the interactive whiteboard, and the teachers did not even correct them.
This project convinced me that nothing is impossible. We were able to get involved quickly – and that's an achievement. I saw an excellent interaction of children in the educational process. It was not a theater where children should be brought together through entertainment; it was a necessary learning experience.
The children used the summer to eliminate the gaps and gradually prepare morally and psychologically for the school year. That is the motivation that the child will confidently go to school also works. Live communication and working in small groups are also critical.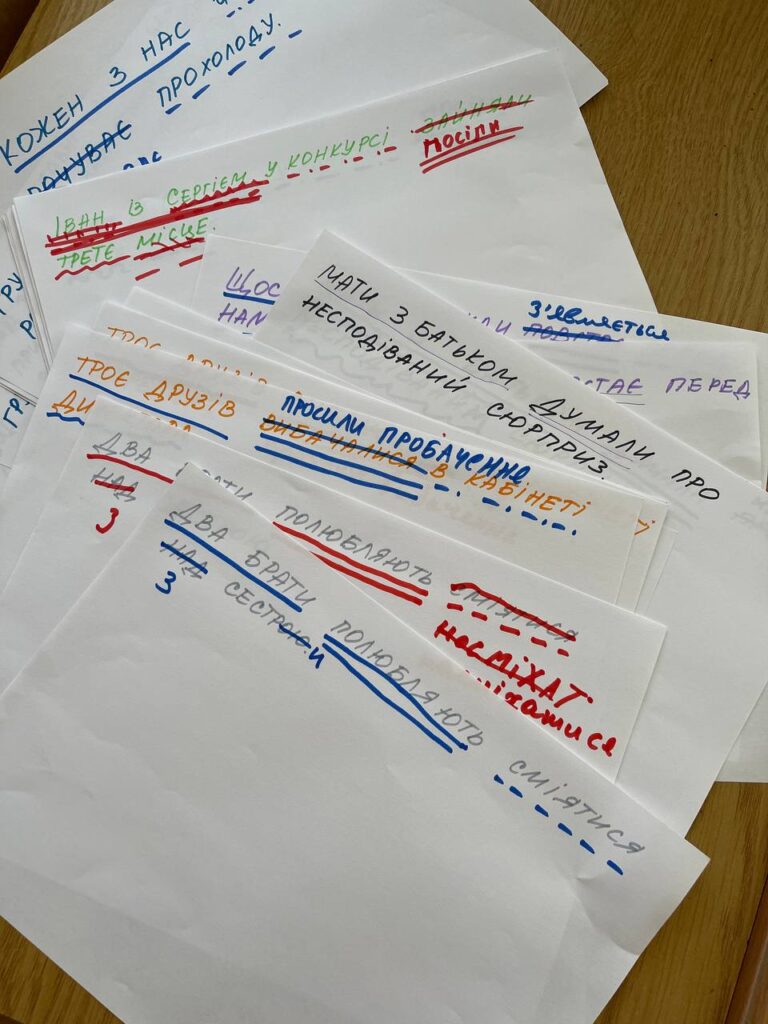 Oresta Shot, pedagogue organizer and computer science teacher at the "Svitanok" school, were responsible for technical support.
Three teachers from another school came to us to teach the children because we are a junior school, and it was about teaching the 6th grade. We got to know them, discussed everything, allocated classes, and organized study and recreation areas. Someone asked for additional sports equipment, someone for flipcharts, and everyone had computers. Also, one of the teachers worked in a computer class with a multi-board.
Sometimes they changed places. Sometimes they held lessons in the gym, sometimes in the air. We have unique mats, so the children liked the outdoor classes the most. They also wanted group projects and summaries, which they summarized by writing on large sheets of paper.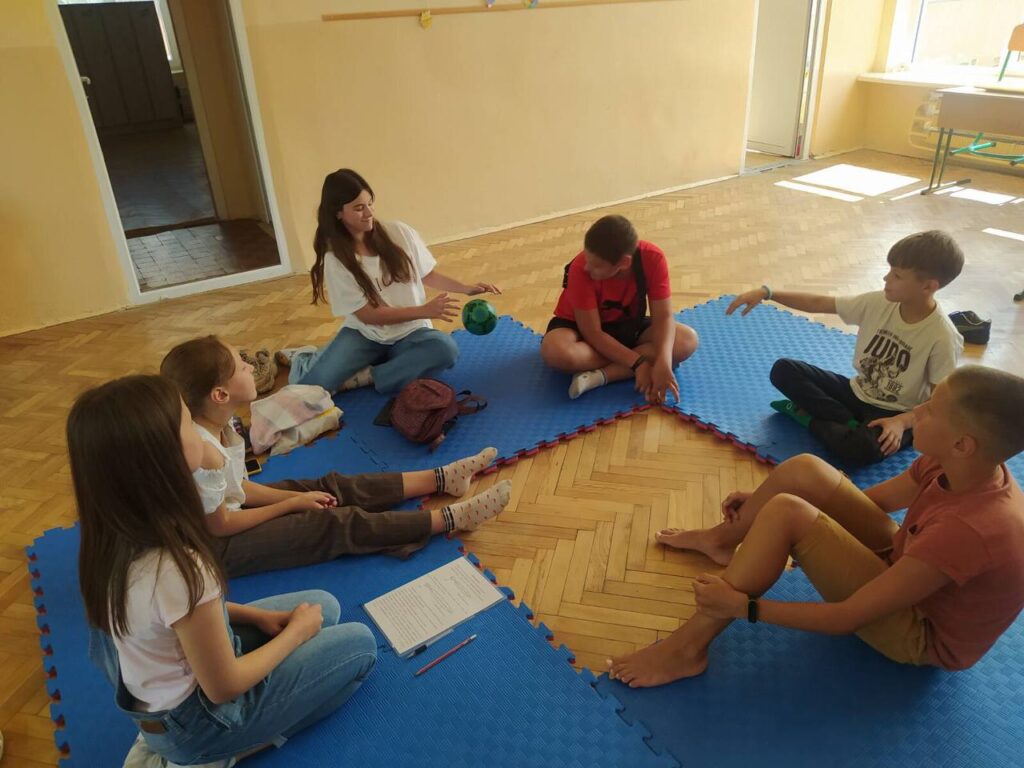 Teachers are very creative, so they invented various forms to interest children: competitions and quests when children looked for hidden tasks throughout the school. The children were not deprived of attention and exciting assignments. In addition, they talked during breaks and became friends. Even on weekends, they met, walked in the center, and went to each other's homes.
We were worried that few children volunteered because we expected a large number. However, there were 22 children from different regions. We also made sure that the children were interested. After all, when they are not interested, they leave. But fortunately, the children went until the last day and were satisfied.
During the opening and closing of the project, the teachers organized an attraction – we bought gingerbread, issued certificates, and took photos.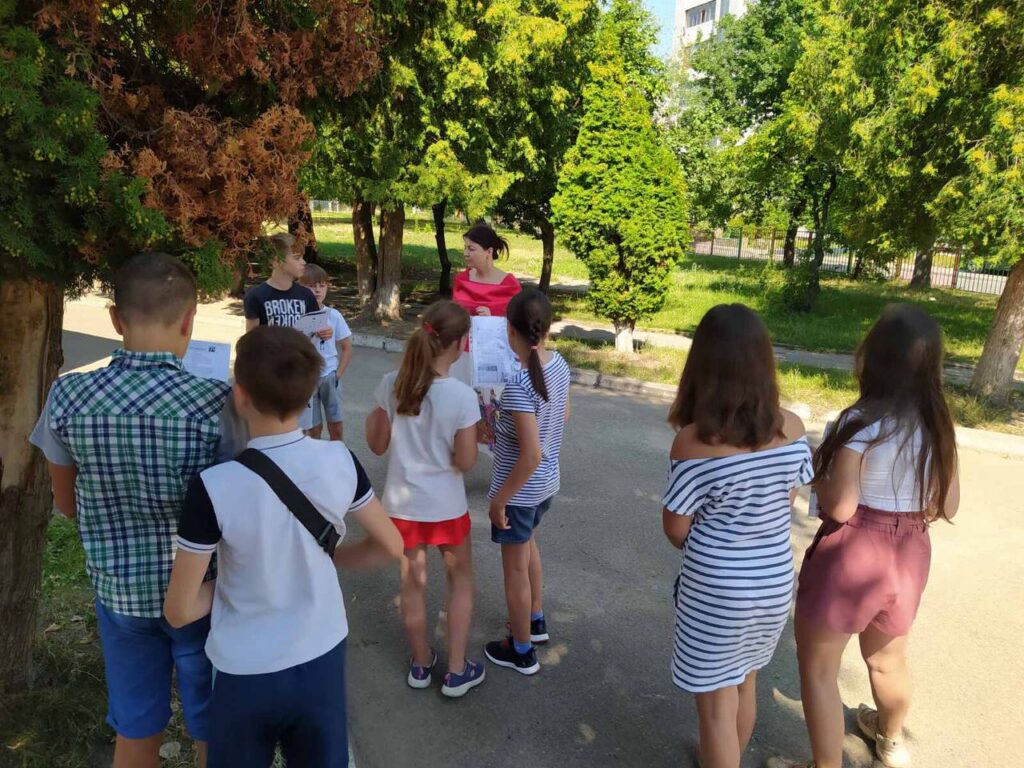 This project is vital because the children only commonly studied for almost three years. Here they were able to do it. They could raise knowledge for free. It is a unique opportunity.

FEEDBACK FROM PARENTS AND CHILDREN
Olga Fityo, mother of a 7th-grade student: "I am very grateful for such a cool project for children. After all, our Asha's children have been studying under quarantine conditions for the last three years, and the quality of knowledge is not quite what it should be. In addition, they lack socialization and communication among themselves. That's why it's great that there was a summer school project where children could refresh their knowledge, teach, remember, and communicate with each other, with teachers, and meet friends."
Vera Seredyak, 9th-grade student: "I came to the summer school to improve my knowledge of chemistry according to the 8th-grade program. The teacher is amiable and explains perfectly. Everything is accessible and understandable. We conducted many experiments, built genetic chains, and solved problems and equations. It was enjoyable and interesting. I would be happy if such a school was held next year."
Anna Kyrylyuk, 10th-grade student: "I have already finished 9th grade and entered college. But I am thrilled that I had the opportunity to study at this summer school, which allowed me to study at a desk. After all, there was poor communication during distance learning with interesting teachers and students eager to learn in these troubled times."
Nataliya Pavlovich, Yuriy's mother (he attended the Academic Gymnasium): "We are delighted with the summer studies. An interesting and creative approach to teaching children. The son found new friends with whom they arranged to drink tea with sweets at a round table during breaks."
Alla Skvortsova, Milena's mother (she attended the Academic Gymnasium): "My daughter did not understand chemistry at all, but after graduating, she said she completely understood the subject. I will be very grateful if such a summer school continues. In addition, when the daughter went to study at her school, she shared interesting facts from her summer studies. Some became news even for teachers."
Nataliya Prytula, Ustyna's mother (she attended the "Oriyana" lyceum): "Everything was wonderful. Ustyna was unhappy that I enrolled her in the camp without her consent. But after the first day, she said it would be good if such a camp occurred daily."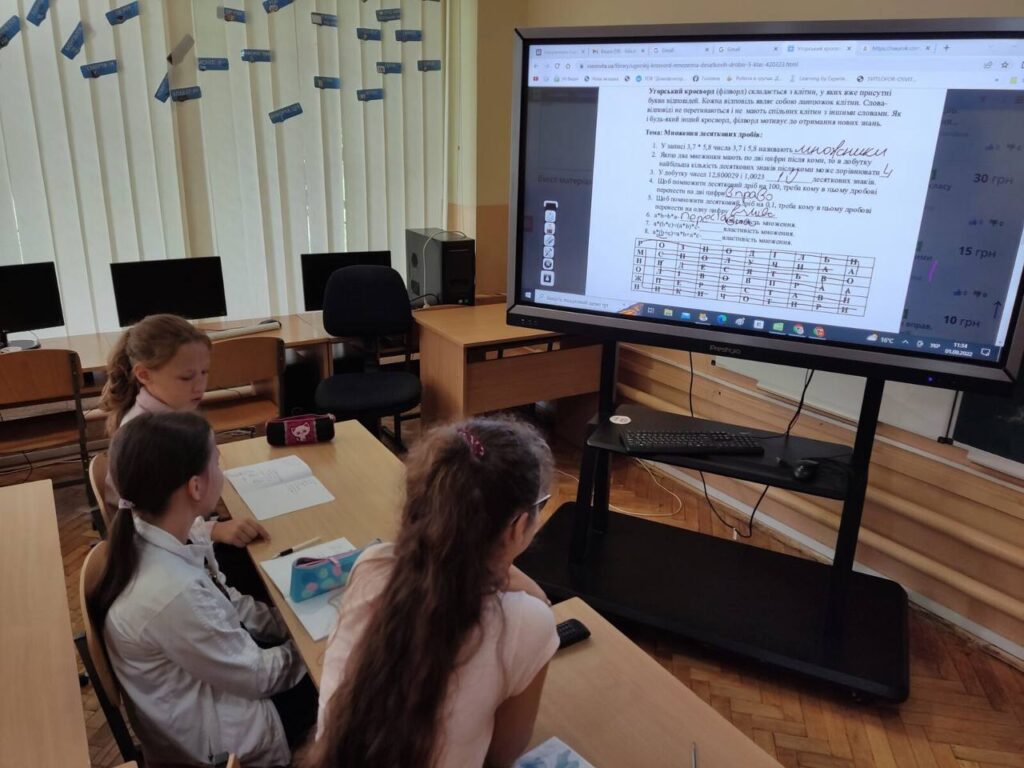 Yulia Kovalchuk, Dominic's mother, who attended the "Svitanok" school: "This is a very high-quality help for children who want to improve their knowledge. My son liked the lessons in the Ukrainian language, and the teacher knows how to find an approach to children and convey knowledge. Although before the start of Summer School, it was this lesson that my child did not want to go to the most."
Iryna Surikova, Anastasia's mother, who attended the "Svitanok" school: "When we enrolled in the camp, my daughter was far away in the village and did not yet know that she would go to classes. When she arrived, I confronted her: they say you must go to the camp to remind yourself of English and mathematics. Of course, she was inconsistent for a long time, but mom's word is the law!
When Nastya attended several classes, she began to be delighted. And once, when I needed her help, I asked to miss one class. Like, nothing terrible will happen if she doesn't leave. To this, the daughter replied: "No, I can't. I have mathematics tomorrow, and I like it." I was pleasantly surprised that Nastya wanted to attend classes. Therefore, I am sincerely grateful for your work, the classes were interesting, and the children chatted unobtrusively and remembered the school program."
Maria Kulchenko, Alina's mother, who attended the Academic Gymnasium: "The child enjoyed attending classes. The teachers explained the material in an accessible and exciting way for the child; the atmosphere was friendly. I liked that the child wanted to attend classes. It is, for me, as a mother, an indicator of a healthy and positive atmosphere in the educational process. Thank you very much for preparing for school!
I was impressed that the children quickly became friends, shared food, and helped each other. For example, once a girl did not take food to school, all the children shared their snacks with her. When the teacher was changed, the children cried because, in such a short time, the teacher became a friend for them."