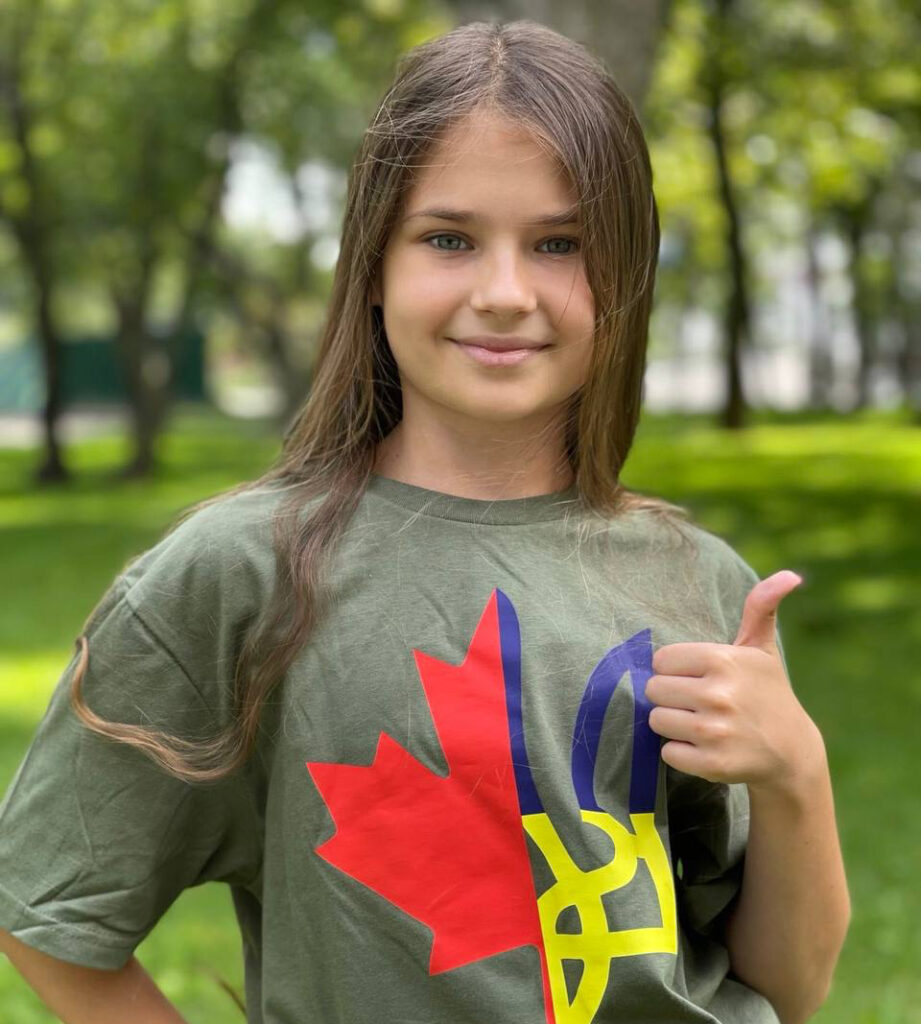 An inspiring story of Polina Borysenko, an 11-year-old volunteer from Kharkiv
We met Polina Borysenko, a 6th-grade student at Kharkiv Lyceum №143, through the "Ukraine Speaks English" project by "Smart Osvita" NGO, where she studied for nine months. The girl is a figure skater, dreams of becoming a police officer, and not only learns English but has been volunteering as a translator for the Canadian project H.U.G.S. Helping Ukraine – Grassroots Support for six months.
So get your tea and cookies ready because today we will tell you a truly inspiring story.
About Polina's life
Polina was born and raised in Kharkiv. Since the beginning of the full-scale war, she and her family moved to the Vinnytsia region for a while. However, they returned to Kharkiv for the sake of her grandparents, who still live 13 kilometers from the border with the aggressor country. Polina has been studying online for 3 years and misses live communication with her classmates.
"I don't know what running around the classrooms is like. I haven't seen my classmates for a long time – since the fourth grade, because the quarantine began. On the eve of September 1, some textbooks were printed for us, and we could come to pick them up. I could see some of my classmates – I said hello, we talked a little, and that was it.

I'm grateful there is an online course, so I can learn and get information somehow, but I still want more offline."
Like many of us, the girl is used to this online life. However, sports help her to keep from staying too long at the laptop.
"I went figure skating for 5 years at the Kharkiv USSA. But now there is no ice in Kharkiv where I can train because it requires a lot of electricity, and there is no such possibility in Ukraine.

In addition, the building where I was practicing was hit at the beginning of the war. Everything seems to be fine from the outside, but I don't know what's inside; we haven't gone in. I even had a competition on February 23; on February 24, an adult group was supposed to perform there. But that's it, I never went to school again.

But that's okay; I'm taking physical fitness classes and plan to return to figure skating after victory. I really like this sport – I chose it myself. Before the war, I already had two programs. I danced them on the ice and even have my own skates."
"Smart Osvita" classes and volunteering
Polina said that since childhood, she has loved learning English. Moreover, to realize her dream of studying abroad, it was essential. One day, Polina's teacher recommended she take classes in the "Ukraine Speaks English" project.
"Smart Osvita helped me a lot – my spoken English has improved. Most of all, I like that each teacher has something special, something I can learn from. For example, from a teacher from Turkey, I learned some Turkish words and his life, which was interesting. Each teacher has their zest, which attracts me.

And, of course, I like that I can speak English fluently in these lessons, so I practice myself. I also communicate with some of the girls from the project and practice Ukrainian with them.

The only thing missing is that I would like to meet the teachers offline and just talk."
The "Ukraine Speaks English" project has been active since February 2022, and nearly 44,000 students aged 2-18 have joined the classes. The program is implemented by the "Smart Osvita" NGO with the support of the Educo Foundation in partnership with the "Classrooms Without Walls" NGO.
The classes are taught by volunteer teachers from all over the world: Canada, Australia, Portugal, Austria, Turkey, the United States, Spain, Japan, India, and others. The project has already attracted more than 140 teachers and even some celebrity guests, including astronaut Chris Hatfield, magician Chris Pillsworth, director Sergio Navarrete, and TV host and author Bob McDonald.
English classes helped Polina start volunteering as a translator, and she has been helping a Canadian organization support Ukrainian children for six months.
"I volunteer in the H.U.G.S. organization; we work with displaced children from the Kharkiv region (Kupyansk, Vovchansk, etc.). I have the role of a translator – there are some English-speaking volunteers in the organization, but only some children speak English.

I got there by accident. I wanted to become a volunteer, but there were no leads or offers. And it so happened that one day, I was with my mother in the store and met the head of the organization, Paul Hughes. The store was closing, so I approached him and said in English: "Excuse me, the store is closing." He liked my language so much that he started inviting me to various programs. Then I became a full-time volunteer with the organization and love it there."
About future profession
Sports activities led Polina to realize her desired future profession – she now dreams of becoming a police officer.
"I used to like the professions of fashion designer and translator, but now I want to study to become a police officer. When I was a kid, I liked their uniforms. But now everything about this job suits me – it has a noble purpose and is sporty, and I have wanted to connect my profession with sports since childhood."
Polina has always dreamed of studying abroad, but when we asked her if she wanted to stay in another country, she answered with a clear "No".
"I wanted to study abroad because I can find English-speaking friends and classmates there. And then, of course, I want to return to Ukraine and Kharkiv. I thought it would be easy to leave, but when I went to the Vinnytsia region because of the war, I realized how much I wanted to go home. And when I came back here, I felt my spirit remained here. Even if I wanted to go and live somewhere else permanently, I couldn't. I will definitely come back to Kharkiv anyway."
About war and its consequences
Polina talks about the war calmly, though with sadness and an adult awareness of everything happening in our country.
"After returning to Kharkiv, we went to Northern Saltivka; everyone knows about it. Yes, there is a lot of destruction there, and it is truly a city of ghosts. There is not a single house without black specks or broken windows.

How did the war affect me? Well, every day seems to be the same as it was, but it's a different life. You don't know what will happen in a second; you don't know if you'll go to school this year. There is always some anxiety. Especially when you are woken up at night, you are like: "Hope, that's just an air raid, nothing more."

But in general, because of the war, I am growing up – I was small, and now not small. I like that everyone became patriots. I used to speak russian for 90% of my life, and now I've started formulating my thoughts freely in Ukrainian. But I also understand why it is difficult for some people to switch to Ukrainian entirely. There's a joke in Odesa about this: "How can I speak Ukrainian if I was taught Ukrainian in Russian at school?" However, I like to learn Ukrainian, just like English."
And in conclusion, some dreams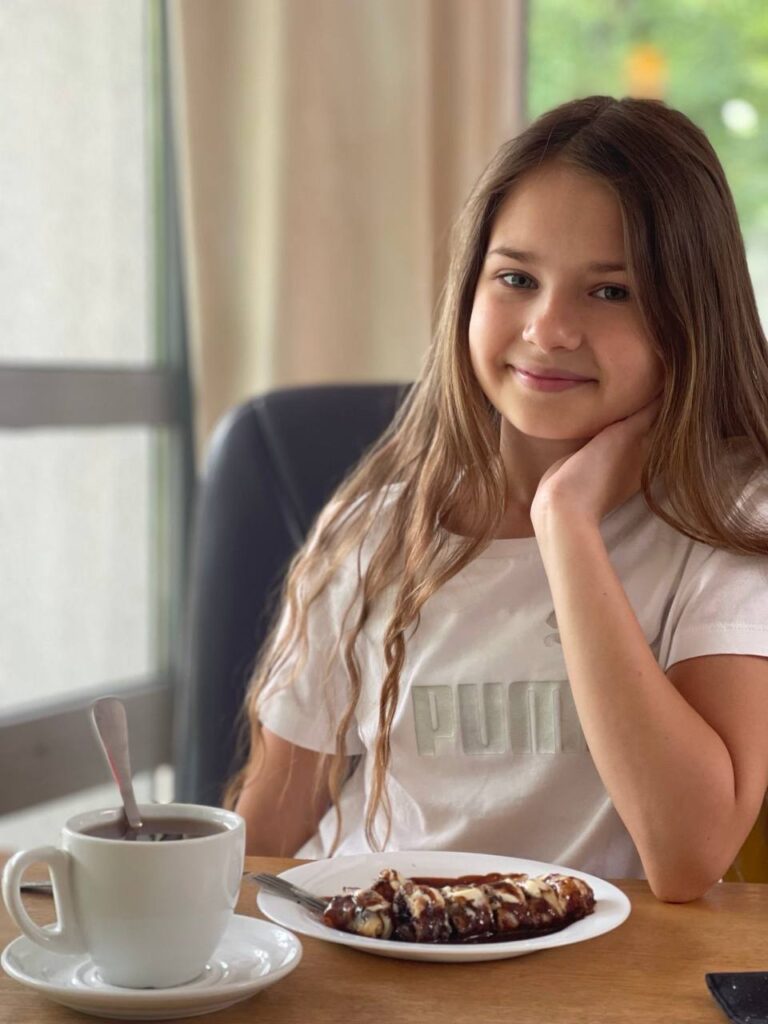 "There is only one dream in Ukraine now – victory and peace. But if I dream further, I want to travel to Disneyland, to Hogwarts. But, you know, I want to go there in a time of peace when I realize that everything is fine in Kharkiv and Ukraine. Now I don't want to go anywhere because I won't leave my dad here alone. I don't understand how other people go abroad for the whole war; I can't do that.

Also, I used to want a sister, but now I realize how hard it is to sit at home with her when someone calls you to go out. So I don't want one anymore 🙂

And I also had a dream of acting in a movie. I've already done one when German journalists interviewed us about Kharkiv, but I want to do more. The new Harry Potter movie is coming out soon, and I even wrote to them: "Maybe there is some role for me, please write to me." Of course, no one responded, but I will definitely act one day, so I'm waiting for our victory and learning English with Smart Osvita."
---
Author: Olha Leshchyk